Do What You Love, Love What You Do

I collaborated with Holly Tucker to create a 'Passion' wall plaque for her book representing the fact that passion is the main driving force when starting a business. 

Passion Plaque for Holly Tucker

Passion plaque created for Holly Tucker's book Do What You Love, Love What You Do'

Female Founders hall of Fame 2022

I was selected by Holly Tucker to be featured on her Hall of Fame celebrating female founders.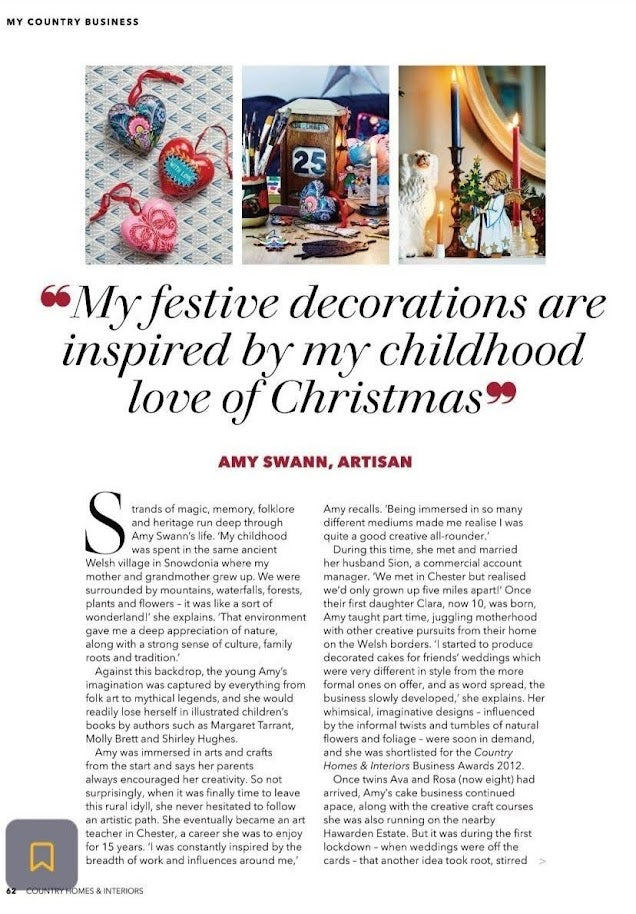 Country Homes and Interiors - December 2021
"Amy is one of life's true creatives. Endlessly inspired by childhood memories, stories, heirlooms and folklore and her wonderful work is a testament to that and more"
Period Living – Talent Spot 2021

Period Living- December 2023 6 page article 'Hanging on to Memories' 

Wild Flowers Magazine- Cover shot 2023
Wedding Cakes Magazine Cover Commissions 2013- 2019
I was commissioned to create several inspirational wedding cake designs by Wedding Cake magazine.
Other cake magazine features include – BRIDES , Wedding Ideas, You and Your Wedding and Perfect Wedding
Wedding Cakes Magazine

Cake Decoration & Sugarcraft Magazine

Wedding Cakes Magazine
Kirsty's Handmade Christmas
Masterclass with Kirsty Allsop to create a Christmas cake sugar paste winter garland for Kirsty's Handmade Christmas